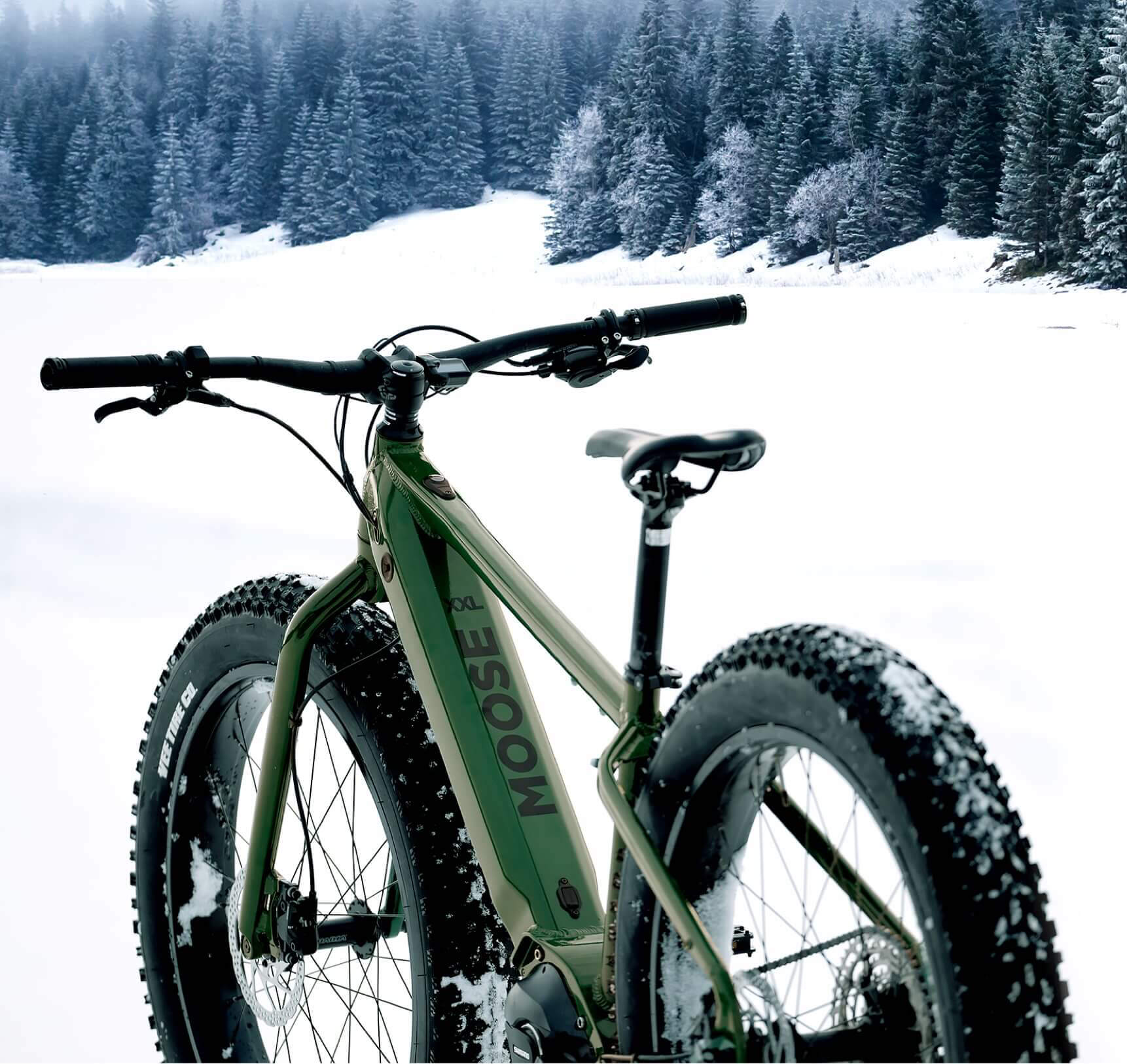 E Fat Bike: The electric evolution for your off-road adventures!
e Fat Bike
$3,753.00
Available through our dealer network or online
At Moose Bicycle, we create top-quality e-fat bikes. The eFatBike 2023 embodies our minimalist spirit with its sleek design and carefully selected components like the powerful 250-watt Shimano STEPS E8000 central motor and perfectly integrated 504wh battery. Its wide tires on double-walled rims offer traction and stability on all terrains. Combining cutting-edge technology and riding pleasure, the eFatBike pushes the limits of all-terrain electric bikes. With it, we aim to offer a machine that's unique, reliable and fun to ride.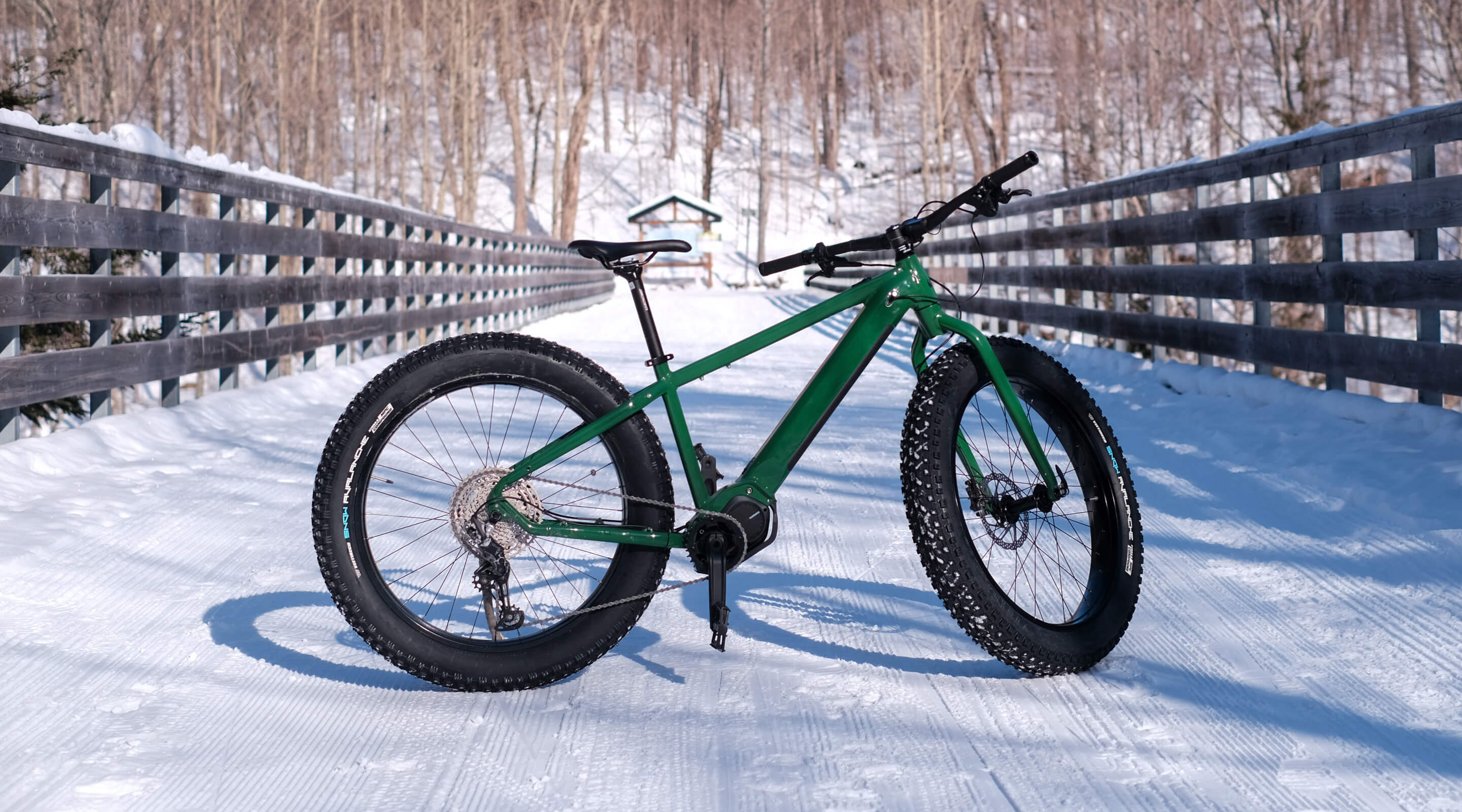 Handlebar
MBC 780mm
MBC 50mm stem
Frameset
Moose double butted 6061 T6 aluminium frameset with tapered headtube, mid drive and internal battery.
Crank arm
SAMOX crank arm w/ wide Q factor
Shimano 30t chainring (BCD 104)
Shimano STEPS E8000, 75Nm, 250W, 36V

35 Km/h
Specification
Derailleur

Shimano Deore M5100 11 s.

Cassette

Shimano Deore M5100 11-51t

Chain

Shimano HG-Series 11 s.

Shifter

Shimano Deore M5100 11s.

Brakes

Shimano MT500 Dual Piston

Crank

Shimano STEPS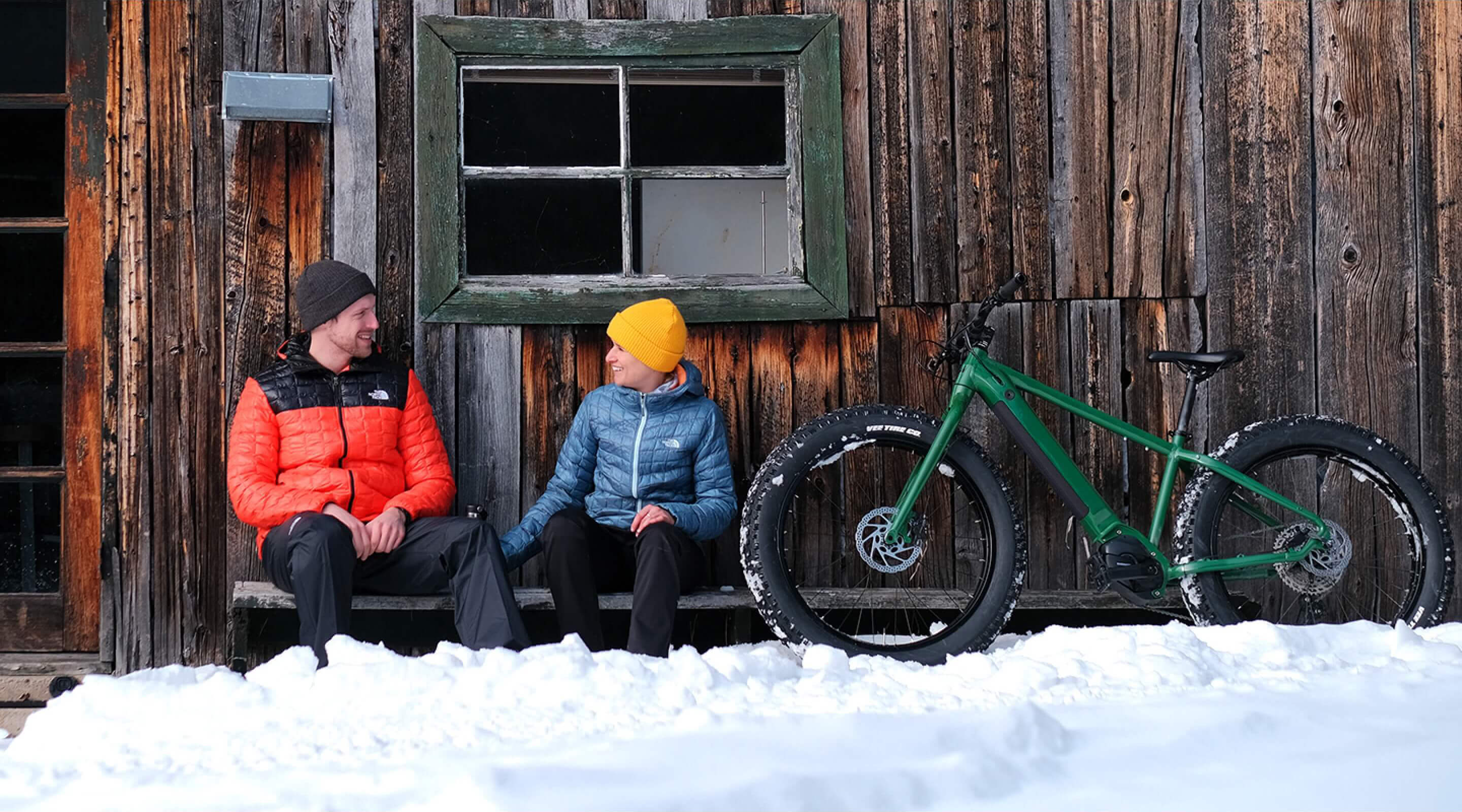 Wheels
Welcome to the exclusive 27.5in Fat Bike club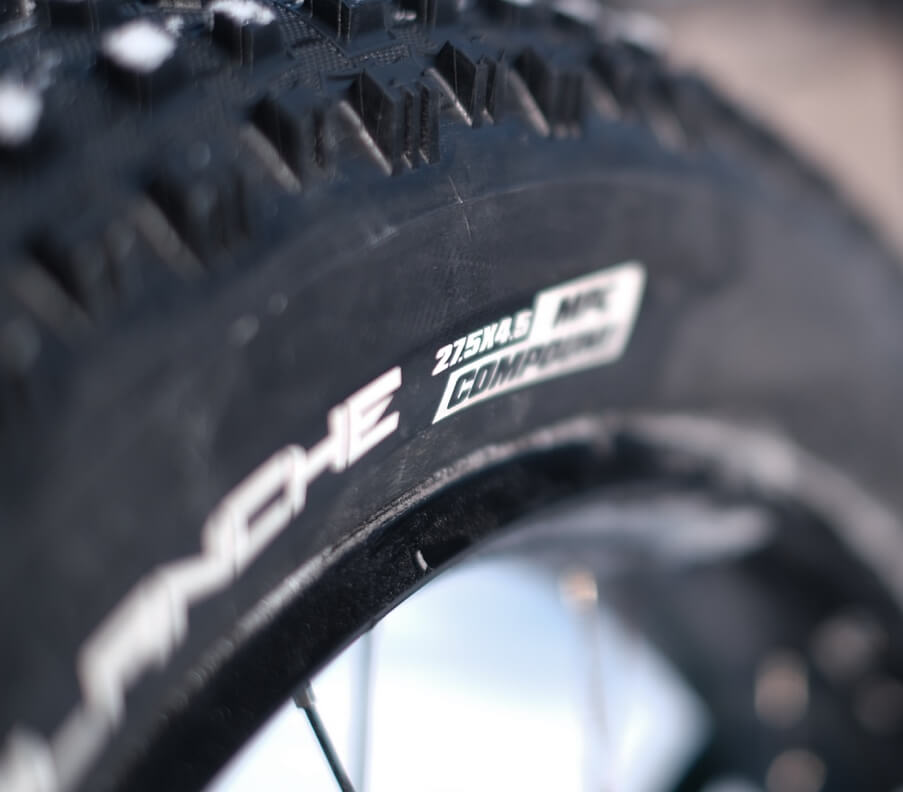 MBC alloy 80mm

Quadra Through Axle

150x15mm Front, 197x12mm Rear

Vee Tire Co Snow Avalanche

27.5x4.5 Studdeable, 120TPI
Li- Ion Battery, 36v, 14ah

Range: 90-140km

Integrated Battery

Changes in 10 seconds
Specification
Cell

Shimano BT-E8035 504 Wh

Charger

Shimano SM-BTE80

Battery Mount

Shimano BM-E8030-B

Charge time

5h from 0% (2h from 50%)

Life cycle

approx. 1,000 cycles
Technical Specifications
Color
Moose Gosford Green
Weight
24kg with battery (Medium)
Assist Speed
Up to 35 km/h
Warranty
2 year on every SHIMANO STEPS components, 1 year on all other components. Lifetime on frameset
SEAT TUBE LENGTH
365MM / 420MM / 480MM
VIRTUAL SEAT TUBE ANGLE
74.5˚ / 74.5˚ / 74.5˚
HEAD TUBE LENGTH
110MM / 110MM / 125MM
HEAD TUBE ANGLE
68˚ / 68˚ / 68˚
TOP TUBE LENGTH
586.2MM / 611.20MM / 640.1MM
BOTTOM BRACKET HEIGHT
319.83MM / 320.11MM / 320MM
BOTTOM BRACKET DROP
60 / 60 / 60
CHAINSTAY LENGTH
470MM / 470MM / 470MM
FORK OFFSET
51MM / 51MM / 51MM
WHEEL BASE
1159.9MM / 1184.9MM / 1215.6MM
STAND OVER HEIGHT
700.4MM / 771.3MM / 847.0MM
REACH
415MM / 440MM / 465MM
STACK
617MM / 617MM / 631MM
Rider
148-163cm (4' 10'' - 5'4'') / 163-179cm (5'4'' - 5'10'') / 179-193cm (5'10'' - 6'4'')
e Fat Bike
Available through our dealer network or online
Frequently Asked Questions
An e-fat bike is an electric bicycle with oversized tires, usually over 3 inches wide. It combines the grip of fat bikes with electric assistance to facilitate all-terrain riding.
By its extra-wide tires, which improve traction on loose terrain such as sand or snow. Its powerful motor also makes it easier to climb hills.
Range varies from 90 to 140 km, depending on battery capacity. Allow around 5 hours for a full recharge.
Maximum speed is around 35 km/h with electric assistance.
Yes, they are at ease on all types of surface: sand, snow, mud, steep paths, etc. Their tires provide excellent traction. Their tires provide excellent traction.
Check tire pressure and clean chain and sprockets. Avoid high-pressure cleaners to protect electrical components.
It's around 120 to 150 kg. Check your bike's technical specifications.
Yes, you can operate it as a standard muscle bike and deactivate the electric assistance.
It is activated by pedalling and assists you up to a maximum speed of 35 km/h.
Yes, you can upgrade certain elements, such as the saddle, pedals or brakes. But be careful about compatibility.
They are subject to the same regulations as electric bikes. Check with your local authorities.
Yes, so it's easy to recharge. You can also buy an additional battery.
Store it in a dry, temperate place. Avoid extreme temperatures, which can damage the battery. Charge the battery from time to time.
The battery should last around 1000 charge cycles. The motor has a life expectancy of around 5 years or more.
Yes, it weighs around 24 kgs, compared with 15 to 20 kgs for a non-electric fat bike.
Write to us or contact one of our authorized dealers.